Here are today's availability of my Tensei "Rebirth" Shakuhachi line.
Fully functional shakuhachi for modern lessons can be difficult to find, even today. In the olden days (pre internet), there were only two ways to obtain a fine shakuhachi, that is through someone whom you trust or through your shakuhachi teacher. Today, one can audition my Tensei line of refurbished Japanese made shakuhachi. These range in style from vintage Jiari to modern Jiari (Jiari = plastered bore), but all are fully capable of study. I invite you to try one. There is a 30 day ample audition time so that you can bring it to your next lesson with your experienced shakuhachi teacher for evaluation. I'm 100% sure that he or she would say that you have found a high quality flute at an incredible price. I can offer these fine instruments at a great discount because I am not only a maker of traditional shakuhachi instruments, but one of the only repairmen in the world that can handle all aspects of full repairs or restorations in both traditional Japanese and modern techniques. I come into flutes in many stages of damage and wear. It often takes a me just a little time to bring it back to life. I truly enjoy working in this manner because I love visiting makers of the past through repairing their fine instruments and because of the need to work with a GREEN ethic. Together, we can help to save the planet by playing recycled shakuhachi!
These are all 1.8 the standard lengths and numbered 1,2 and 3 from top to bottom for discussion. All three are capable of the "honking" Ro.
Here is a sound file of a Tensei shakuhachi in a similar grade:




I am just noodling around so that you can hear the general characteristics of a 1.8 modern Jiari shakuhachi without "milking".

#1) Shinsui, Deep Water, Tozan Ryu. Repaired crack on the top section with inlaid rattan and one Mono filament binding so as not to hide the Hanko maker's stamp. Filled and refurbished utaguchi inlay. Snug Joint. In tune to the standard set by professional players and teachers. Fast response, modern sound, full ringing volume - everything one would need to pursue rigorous study in modern and classical shakuhachi music. Acrylic Tortoise Shell joint ring - $1,600.

#2) No hanko, Kinko Ryu. Repaired cracks with topical nylon cord with urushi lacquer painted over. Snug joint. This one plays extremely well with the desired sound quality of a Kinko style flute made around the 1960s. In tune. Full, robust yet velvety smooth sublime quality expected by traditional Kinko players. Vintage style, Urushi Lacquer oint wrap - $1,400

#3) Chikusen Tamai. Tozan Ryu. Well respected maker who trained many of the top maker's working in Japan today. Repaired cracks along the top section. Snug Joint. Sweet direct tone. Fast response. Celluloid Tortoise Shell, metal Nakatsuki joint wrap.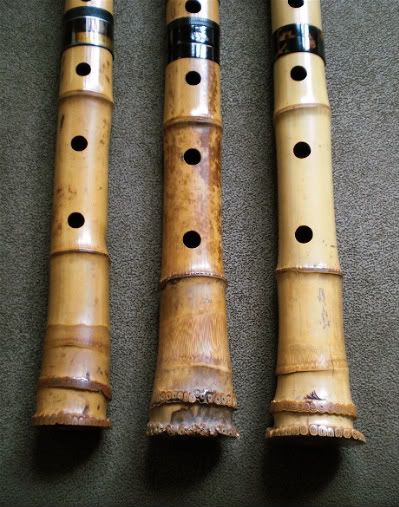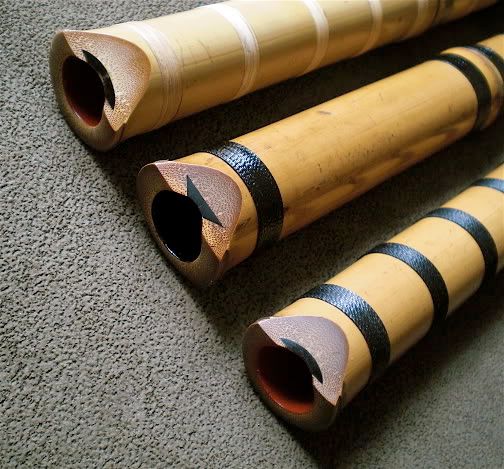 Please feel free to email with any questions what so ever through the comments button or email me at perry (at) yungflutes (dot) com

Have a great day! Perry